Created By Experts, For Experts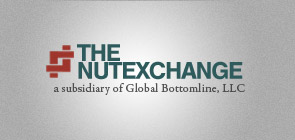 A subsidiary of Global Bottomline LLC, one of the largest, most successful nut brokerage companies in the world, The NutExchange was created by industry experts, for industry experts. We are incredibly intimate with the intricacies of the nut market and wholly understand and appreciate the needs of customers and suppliers.

As a long-time industry leader, the staff at Global Bottomline LLC noticed a specific, unmet need within the nut industry – a simple, electronic, and confidential trading tool that allows both individuals and companies the ability to buy and sell their products on their terms.

After several years of meticulous development and fine-tuning, The NutExchange was born. In just its first month of concentrated promotion, it is taking the entire nut industry by storm. Already with hundreds of domestic and international users and millions of dollars in product listings each week, the industry has made its choice clear.

Your colleagues are joining – why aren't you?

Join The NutExchange revolution today and instantly become bigger, faster, and stronger.

Meet the Staff
Wade Railsback
Founder/Owner
wade@nutexchange.com
With an impressive professional upbringing in the financial community, Wade turned towards the nut industry in the early 1990's. Wade's second-to-none product knowledge and financial acuity quickly turned his nut brokerage firm, Global Bottomline, LLC, into one of the largest and most successful in the world.


Kim Bolton
Director
kim@nutexchange.com
After just a few months of entering the nut industry, Kim has helped to increase activity on the NutExchange by over 400%. Her diverse background, expertise and energy has encouraged our global customer base to realize the power of the NutExchange. Look for her at the next industry Trade Show, or give her a shout to learn all you can about the tools available on our site.


Park Wilbourne
Owner / Broker
park@nutexchange.com
Park's diverse talents and 20 years of experience in sales has quickly establish him as an expert across the nut industry. His desire to help you and your company succeed is what sets him apart and makes him invaluable to your business. Park helps direct market information and opportunities on the NutExchange in order to better serve and equip all of its members.

Jared Weisser
Broker
jared@nutexchange.com
Jared has a diverse background in both sales and logistics. His excellent customer service and hard-working nature shows in his daily drive to support both sellers and buyers in the peanut and tree nut industry. He is a coastal guy, being a Florida native and a former resident of California, who now calls Texas home. His daily goal is to stay current on all market happenings while helping drive your organization's success by supporting your needs to buy and sell in the nut industry today.


Steve Ortloff
Broker
steve@nutexchange.com
Steve came to Global Bottomline after 19 years in the peanut business with Clint Williams Company in Oklahoma. He worked in management and sales, providing excellent customer service to customers all over the U.S. and around the world. Steve is our peanut expert, and is learning more about tree nuts each day.


Marsha Cassle
Accounting & Administrative Support
marsha@nutexchange.com
Marsha has provided excellent accounting, logistic and customer support at Global Bottomline for over 10 years. She brings various experience and expertise to every detail of the business. Her efforts are crucial to the daily operations of Global Bottomline – NutExchange.